Rebel Nation is an alternative hip hop band that infuses different genres of music to create a unique and energetic sound that appeals to a diverse spectrum of music lovers. In 2010 Jade Fox formed a full fledged band known as Rebel Nation, who began quickly causing a buzz with their highly energetic and entertaining shows.  As a female fronted live hip hop band, Rebel Nation offers something different that is not present in today's market. Blending hip hop with elements of reggae, funk, R&B, and rock, great range is shown in the diversity of creativity that keeps Rebel Nation from being placed in a box.  The band consists of members from all across Maryland who each bring their own style and energy, combining effortlessly through undeniable chemistry and resulting in musical pieces that takes listeners through a variety of feelings, emotions, and excitement. Drummer Billy Dangerous has been the consistent heartbeat of the band since it began forming and finding a sound. Guitarist Nic Richards soon joined and was able to bring clear creative direction as well as bringing in the talents of bassist and producer H.I. to the band.  In 2013 Baltimore veteran emcee McCracken joined Rebel Nation, adding even more lyricism and energy to every song's content and performance. Add in back up singer Naomi accenting the catchy and notable melodies and flows in every song and Rebel Nation is not just a band that catches your ear but that truly captures all of your senses reminding you that music is an "experience"  Show after show they have proven their ability to pull in and captivate audiences from the first song to the very last. With the music speaking for itself as an honest form of self-expression that is entertaining and related to by many, Rebel Nation is poised to become a known name in the music world.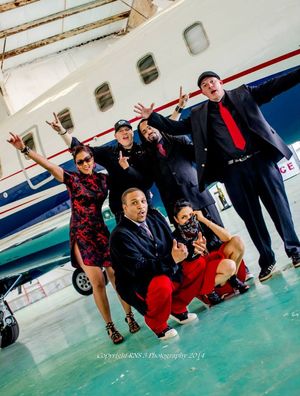 In a hip-hop game dominated by male rappers, comes a refreshing new sound and look in the form of hip hop artist, Jade Fox.  The female mc, who is of Black and Asian heritage, proves that intense lyrics and crazy flows aren't only for the guys.  Combining the skills of a lyricist, mc, and a poet, Ms. Fox is able to transform music instrumentals into thought provoking masterpieces.  Describing herself as "that underground female with commercial appeal," Jade Fox shows it is possible to create entertaining music with substance, a combination not often heard in today's pop driven market.

Great range is shown by the female mc through songs touching on serious aspects of living life to battle rhymes for all who doubt her.  With the release of two albums, Ashes of Another Life and Eternal Flame it is evident that Jade Fox is constantly evolving as an artist.  Her evolution led  her to forming the band Rebel Nation. A wide range of influences which include Bob Marley, Tupac Shakur, Lauryn Hill, Led Zeppelin, and Jimi Hendrix have provided a foundation for Rebel Nation to create a refreshing and universal sound.  More information on Jade Fox can be found at www.jadefoxmusic.com and www.facebook.com/jadefox410 
McCracken (aka illy ripken) reps for the underdogs. The veteran baltimore emcee has been making a name for himself since 2000. While his bars measure up with the best of them, he never minds poking fun at himself. Best known for his stage show he has performed countless shows up and down the east coast with Minlus & The Bootlegger Crew, his former bands Opposable Thumbs, Pasadena, and as a solo act. He has shared stages with several renowned acts such as Rakim, Method Man, Redman, Lupe Fiasco, Slick Rick, Guru, And Jedi Mind Tricks just to name a few. Being that McCracken is influenced by ALL forms of music, the Rebel Nation Crew has proven to be a perfect fit. Get in where you fit in and get live!!